Shirley Duke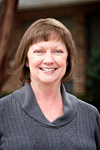 Shirley Duke has been writing in a variety of children's genres for twelve years. Before she began writing, she taught science and ESL at the elementary and secondary levels. In creating Unthinkable, a YA horror story in the Night Fall™ series, she drew on her high school ESL teaching experience for insight into what teens really like to read. Horror is a new genre for Shirley, and she found it exciting to create the special abilities of Sophie and Omar. She blogs about science books and suggests an accompanying activity at SimplyScience. Her blog includes some of Lerner's newest nonfiction. Unthinkable is her first book with Lerner.
Interview
What was your favorite book when you were a child?

I read the Little House in the Big Woods books by Laura Ingalls Wilder, and loved them so much that I reread the series again and again. I also loved Richard Halliburton's Complete Book of Marvels. It transported me around the world.

What's your favorite line from a book?

"This is the day of the reaping." When I read that line in The Hunger Games by Suzanne Collins, I realized it wasn't talking about wheat. That line pulled me into a story that I knew would stay with me for a long time.

Who are your top three favorite authors or illustrators?

My favorite authors are April Pulley Sayre, Suzanne Collins, and Jean Craighead George. I also love Wendell Minor's art.

Why did you want to become an author or illustrator?

I always liked to write, but hadn't thought about writing for children until I'd taught school for many years. I read all the time, and once I began reviewing books for my middle school library, it made me realize that writing for children was something I'd like to do.

Do you have any advice for future authors or illustrators?

Be persistent and learn patience. Then take any writing opportunity that comes along. Each step of the way prepares you for the next one and it's exciting to see what turns up next.