Carla Killough McClafferty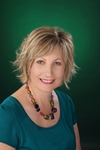 Photo by Wooldridge Photography
Carla Killough McClafferty writes nonfiction books for young readers. But writing is not the first career for McClafferty, who is a Radiologic Technologist. Her work as an author began with her debut book, Forgiving God, an inspirational book that deals with the death of her youngest son, Corey. Next, she turned her attention to writing nonfiction for readers in upper elementary, middle school, and high school. Her first three books in this genre were published by Farrar, Straus and Giroux: The Head Bone's Connected to the Neck Bone: The Weird, Wacky and Wonderful X-ray, Something Out of Nothing: Marie Curie and Radium, and In Defiance of Hitler: The Secret Mission of Varian Fry. Her latest book is The Many Faces of George Washington: Remaking a Presidential Icon (Carolrhoda).

Her books have been recognized for excellence by the Junior Library Guild, Outstanding Science Trade Books for Children by the CBC, New York Public Library Books for the Teen Age List, IRA Children's Book Award Winner, a NCTE Orbis Pictus Honor Book, ALA Best Books for Young Adult List, ALA Amelia Bloomer Project List, NSTA Outstanding Science Trade Book, National Council of Social Studies/Children's Book Council Notable Social Studies Trade Book for Young People, Booklist Top Ten Sci-Tech books, NCTE Orbis Pictus recommended book, an International 2008 Society of School Librarians International Book Award Honor Book, Cooperative Children's Book Council (CCBC) Choices 2009 list, Arkansas's 2008-2009 Charlie May Simon Reading List, and received a starred reviews in School Library Journal, Booklist, and Jewish Book World.

McClafferty is a popular speaker for both children and adults. She has presented at a wide variety of local, national, and international venues, providing workshops and keynote addresses at events which include ALA, AASL, NCTE, IRA national and regional SCBWI conferences. She lives in North Little Rock, Arkansas.
Interview
What was your favorite book when you were a child?

The Tale of Peter Rabbit

What's your favorite line from a book?

My favorite line is actually the opening life of Charlotte's Web:
"'Where's Papa going with that ax?' said Fern to her mother as they were setting the table for breakfast."

Who are your top three favorite authors or illustrators?

Sid Fleischman, Russell Freedman, Sally Walker

Why did you want to become an author or illustrator?

I want to share my love of reading and learning with people. I want to write books that are fascinating to my readers, while at the same time teaching them something they didn't know about a topic they didn't know they were interested in.

Do you have any advice for future authors or illustrators?

Read books in the same genre you want to write. Then when you are ready, put your seat in a seat and stay there and work.