Amy Farrar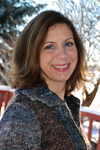 Anastasiya Bannie
Amy Farrar is a professional freelance writer and editor. She has written three books that have been published, including Global Warming: Essential Viewpoints, published by Abdo Publishing Company in 2007, The Indispensable Field Guide to Freelance Writing, published on Amazon.com in 2009, and ADHD, published by Lerner Publishing in 2010. Amy's articles have also been published in numerous magazines and newspapers, including the Los Angeles Times, The Saint Paul Pioneer Press, Minnesota
Bride Magazine, Wisconsin Bride Magazines, and Cats magazine.

Amy is also an accomplished freelance editor, and she has edited books, magazines, curriculum guides, and a variety of other content for both print and online venues. Her clients include book publishers, magazines, marketing firms, and individuals, and she is the manager of a group on LinkedIn called Indispensable Freelancers.
Interview
What was your favorite book when you were a child?

My favorite book as a child was Corduroy by Don Freeman. I still read this book to my daughter, Emma. The book has been around since 1968, which was only two years after I was born, so it has a special place in my heart because the illustrations in the story remind me of the time period I grew up in. I have always loved this story because it is told from such a heartfelt perspective: although Corduroy is a toy bear, he has many of the same feelings as a small child, and is only looking for unconditional love, as we all are. Corduroy has an adventure in the store trying to better himself so that a little girl who has been looking at him will buy him and take him home. In the end, although he fails to find the lost button on his overalls, the little girl, Lisa, buys him anyway, and Corduroy not only finds a new home but a place in a little girl's heart. What could be better? I also love the illustrations in the book; Lisa McCue, the book's illustrator, is a genius the way she brings drawing and painting together.

What's your favorite line from a book?

I don't know! This is like asking a painter to tell you what their favorite color is.

Who are your top three favorite authors or illustrators?

J. K. Rowling, author of the Harry Potter series, David and Leigh Eddings, who wrote The Wheel of Time series, and Louisa May Alcott, who wrote Little Women, but really this is such an unfair question! There are too many to list!

Why did you want to become an author or illustrator?

As soon as I learned how to write, I wanted to be an author. I've kept a journal since I was 14, and I started my career as a newspaper writer and editor. One of the things I love about writing is that how I interpret the world through my writing gives people a unique perspective that no one else can offer. From a very early age I learned about "the power of the pen" and how profoundly a person's writing can influence and change the world around them. I feel very fulfilled writing nonfiction that helps people and the world we live in. Another thing I love about writing is the lifestyle it affords; as a freelance writer and editor, my life is simply more flexible than it was when I worked full-time for other companies. This is a real bonus with a young child in the house.

Do you have any advice for future authors or illustrators?

Yes! Almost all of my advice is in my book, The Indispensable Field Guide to Freelance Writing, available on Amazon.com or at http://AmyFarrar.notlong.com. One of the most important things that a prospective writer or illustrator should do before they begin working is to sit down and make a list of everything they are interested in writing or illustrating. After this, they should study the competition, the markets, and then figure out how they can make a unique contribution. Of course, the other thing they should do is practice, practice, practice!