Barb Rosenstock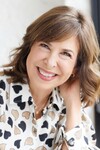 Photo provided by author.
Orbis Pictus Honoree Barb Rosenstock grew up in a rural suburb south of Chicago. She married and raised two sons who loved picture books, so Barb read thousands of them. She started writing for children while finishing a Master's Degree in teaching.
Interview
What was your favorite book when you were a child?

The Betsy-Tacy series by Maud Hart Lovelace. I try to reread it every few years. Even 40 years later, I still find myself wishing that I lived in her town with her friends at her time in history.

What's your favorite line from a book?

"You can safely say you have created God in your own image when God hates all the same people you do." Anne Lamott from Grace (Eventually)

Who are your top three favorite authors or illustrators?

Patricia Polacco, Kevin Henkes, Cynthia Rylant

Why did you want to become an author or illustrator?

I always liked to write, but never thought about writing children's books until I married and had two sons who LOVED picture books. I wound up liking some of the books so much that I'd read them over and over even after my boys were in bed. Writing the kinds of books that bring generations together, creating warmth and discussion in a family is important to me.

Do you have any advice for future authors or illustrators?

Every person tells stories. Writing or drawing is just one way of telling your stories to other people. If you want to be an author, 1) Read lots and lots of books 2) Try to write like you are telling the story to a friend 3) On your first drafts or first tries, don't be too concerned with "doing it perfect," First drafts are SUPPOSED to be bad! 4) You don't have to write in order beginning to end. Write it down any way you like and organize it later. 5) Let other people read your stories, listen to what they liked and what they didn't like. Repeat.