Kate Hosford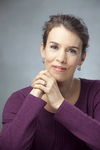 Photo by Roberto Falck
Kate Hosford is the author of several picture books, including Infinity and Me which won the New York Times Best Illustrated Children's Book award and was named an ALA Notable Children's Book. She lives in Brooklyn.

Interview
What was your favorite book when you were a child?

Probably Harriet the Spy. It felt edgy and slightly dangerous. I loved the interaction between Harriet and her nanny, Ole Golly.

What's your favorite line from a book?

"The fanciest dive that ever was dove
Was done by Melissa of Coconut Grove."
from Shel Silverstein's poem, "Fancy Dive" in A Light In the Attic.

Who are your top three favorite authors or illustrators?

My three favorite authors are Roald Dahl, Judy Blume, and Shel Silverstein. My three favorite illustrators are Gabi Swiatkowska, Petra Mathers, and Melissa Sweet.

Why did you want to become an author or illustrator?

I started out as an illustrator, and began writing in order to get more illustration work. However, as time went by, I found that I could express myself better through writing, and it has completely fulfilled my need to be creative.

Do you have any advice for future authors or illustrators?

Spend the majority of your time working on your craft. I think it is tempting for people to focus on the business side of writing prematurely. If the writing is good, it will find an audience eventually.
Form a writing community. It is absolutely essential to have writer friends both for your professional life and your personal life.
Read as much as you possibly can, in as many different genres as you can. Treat it as an essential part of your writing practice.
Know that when you feel blocked in your writing, your subconscious is working on solving your writing problems. So even when you feel like you are not working, you still are.
Make sure to exercise. Aside from being good for you, it's a wonderful time for solving writing problems and coming up with new ideas.
Keep a running list of all your writing ideas. Some good ideas need to percolate for a while, so they can just live on your list until you are ready to pursue them.
A certain amount of failure and rejection is inevitable in a writing career. When it happens, embrace it as a learning experience, and then move on!