Nadia Higgins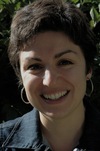 Nadia Higgins is the author of 50-plus books for the school library market. She also worked as an editor in the industry for almost ten years. Many of her books have a science bent, though she's also written about pop stars, car art, and zombies. Nadia lives in Minneapolis with her husband and two young daughters.
Interview
What was your favorite book when you were a child?

The Velveteen Rabbit

What's your favorite line from a book?

"People aren't either wicked or noble. They're like chef's salads, with good things and bad things chopped and mixed together in a vinaigrette of confusion and conflict." –The Grim Grotto, Lemony Snicket

Who are your top three favorite authors or illustrators?

Beverly Cleary, L.M. Montgomery, Lemony Snicket

Why did you want to become an author or illustrator?

Writing books for kids is the most interesting job out there. I'm constantly researching information and saying to myself, "What is the core of what's happening here, and how can I make it as vivid as possible?"

Do you have any advice for future authors or illustrators?

It sounds corny but it would have to be, Let your passion lead you. If you work on projects that you're glad to think about while you do the dishes, you will be successful.