Alaya Johnson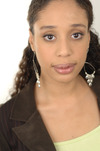 Alden Ford
Alaya Johnson graduated from Columbia University in 2004 with a BA in East Asian Languages and Cultures. She has published The Goblin King, for younger readers, and is working on a fantasy trilogy for older teens called The Spirit Binders. The first book, Racing the Dark, was published in 2007 and the second, The Burning City, was released in April 2010. She also has an unrelated adult 1920s vampire suffragette novel, Moonshine, out in May 2010.

Interview
What was your favorite book when you were a child?

The Secret Garden by Frances Hodgson Burnett

What's your favorite line from a book?

From The Secret Garden: "When Mary Lennox was sent to Misselthwaite Manor to live with her uncle everybody said she was the most disagreeable-looking child ever seen."

Who are your top three favorite authors or illustrators?

Diana Wynne Jones, Guy Gavriel Kay, Justine Larbalestier

Why did you want to become an author or illustrator?

I've always loved words and stories and so I decided that I would be a writer around the age of seven.

Do you have any advice for future authors or illustrators?

Stick with what you love, read as much as you can, and keep writing. Talk to other writers, share your work, get critiques, and try to improve. Eventually, doing what you love will work out for you.