Zhi Qu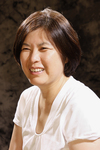 Photo by Yizhong Ding
Zhi Qu was born in Beijing, China and raised by her grandparents in their old, Beijing-style quadrangle. When she was a child, she heard many stories from her grandmother. Zhi attended Beijing Normal University where she studied English literature. She received her master's degree in education from the University of Minnesota, where she also studied Linguistics. She currently lives with her husband in Mendota Heights, Minnesota, and works as an ESL teacher in Minneapolis Public Schools. Their daughter is studying at Harvard University.
Interview
What was your favorite book when you were a child?

When I was a child, my favorite book was Where Is Our Mother? It is a Chinese picture book about a group of tadpoles searching for their mother.

What's your favorite line from a book?

My favorite line from a book (and the most sustaining one) is from Shakespeare's Much Ado About Nothing, "I love you with so much of my heart that none is left to protest."

Who are your top three favorite authors or illustrators?

My top three favorite children's authors are Tomie De Paola, William Steig, and Beatrix Potter.

Why did you want to become an author or illustrator?

I love to write. Writing always brings me great joy. I wrote Little Sima and the Giant Bowl because I truly loved the story and felt delighted to share it with young children.