Teresa Murfin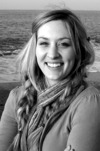 Teresa Murfin graduated in 2001 with a degree in Illustration from Falmouth College of Art, UK. She has since been living and working in Bristol, England, as a freelance illustrator. Teresa has worked for a variety of clients, including Lerner, Scholastic, Oxford University Press, BT, Weightwatchers, Hodder, and Simon & Schuster. Picture books published include Hide & Seek Turkeys by Judith Ross Enderle & Stephanie Jacob Gordon, I'm Not Afraid of this Haunted House by Laurie Friedman, Animal Soup by Ian Whybrow and Thanksgiving Rules by Laurie Friedman.
Interview
What was your favorite book when you were a child?

The Little Girl and the Tiny Doll by Edward and Aingelda Ardizzone

What's your favorite line from a book?

"Then the Whos, young and old would sit down to a feast. And they'd feast! And they'd feast! And they'd FEAST! FEAST! FEAST! FEAST! They would feast on Who-pudding, and rare Who-roast beast." —How the Grinch Stole Christmas by Dr. Seuss

Who are your top three favorite authors or illustrators?

My top three favorite illustrators are Sara Fanelli, Anne Herbauts, and Delphine Durand.

Why did you want to become an author or illustrator?

I really loved art at school and it seemed like the natural progression—I just grew to love it more and more. I can't imagine wanting to do anything else!

Do you have any advice for future authors or illustrators?

Just stick at it and don't give up. It's easy to become disheartened when you don't get the right feedback, but persevere and you'll get there.