Buffy Silverman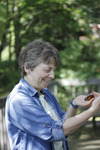 Buffy Silverman is the author of more than 90 nonfiction books for children, featuring topics from alligators to video games. Look for her nature-inspired poetry in anthologies and children's magazines, and visit her at www.buffysilverman.com.

Interview
What was your favorite book when you were a child?

How can I pick just one? Go, Dog, Go is the first book that I remember reading on my own—and that was a thrill. Pippi Longstocking and Charlotte's Web were two that I read over and over. I devoured series like the Bobsey Twins, Nancy Drew, and The Hardy Boys.

What's your favorite line from a book?

"My name is India Opal Buloni, and last summer my daddy, the preacher, sent me to the store for a box of macaroni-and-cheese, some white rice, and two tomatoes and I came back with a dog."—Because of Winn Dixie by Kate Dicamillo

Who are your top three favorite authors or illustrators?

Robert McCloskey, Joyce Sidman, Douglas Florian

Why did you want to become an author or illustrator?

I fell in love with picture books when my own children were young. I wanted to write stories that could capture a child's imagination like the ones that I read to them. Eventually I found myself writing nonfiction. And years later, I discovered children's poetry and truly found my voice.

Do you have any advice for future authors or illustrators?

READ, READ, READ! Be willing to revise, reimagine, and change your course.