Ron Randall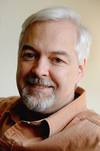 Photo by Jim Berry
Ron Randall has drawn comics for every major comic publisher in the United States, including Marvel, DC, Image, and Dark Horse. His Myths and Legends work includes Thor & Loki: In the Land of Giants and Amaterasu: Return of the Sun. He has also worked on super hero comics such as Justice League and Spiderman; science fiction titles such as Star Wars and Star Trek; fantasy adventure titles such as DragonLance and Warlord; suspense and horror titles including SwampThing, Predator, and Venom; and his own creation, Trekker. He lives in Portland, Oregon.
Interview
What was your favorite book when you were a child?

I read a lot of Doc Savage paperbacks.

What's your favorite line from a book?

"In our family, there was no clear line between religion and fly fishing." (from A River Runs Through It)

Who are your top three favorite authors or illustrators?

Al Williamson (Science Fiction artist)
Hal Foster (creator/artist of Prince Valiant)
Alex Raymond (creator/artist of Flash Gordon, Rip Kirby)

Why did you want to become an author or illustrator?

I fell in love with science fiction comics as a kid and wanted to "do that myself."

Do you have any advice for future authors or illustrators?

No artist has ever done too much life drawing. That is the cornerstone for everything that follows.