Jennifer Boothroyd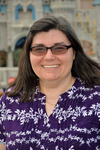 Jennifer Boothroyd taught elementary school for many years. She currently helps visitors explore the outdoors at a local nature center. Jennifer enjoys spending time with her family, taking pictures, and traveling. She is a huge Disney geek and loves planning trips to Walt Disney World for her friends and family.
Interview
What was your favorite book when you were a child?

The Westing Game by Ellen Raskin

What's your favorite line from a book?

"The ships hung in the sky in much the same way that bricks don't."— Douglas Adams, The Hitchhiker's Guide to the Galaxy

Who are your top three favorite authors or illustrators?

William Goldman, Jane Austen, and Jeff Kurtti

Why did you want to become an author or illustrator?

I like helping kids explore the world around them. There's just so much to discover.

Do you have any advice for future authors or illustrators?

Make sure you keep track of all your writing ideas. Even if an idea doesn't work right now, it may inspire you in the future.