Candice Ransom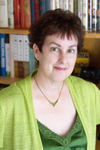 Candice Ransom is the author of 150 books for children. She holds an MFA from Vermont College and an MA in children's literature from Hollins University. She currently teaches in Hollins University's graduate program in children's literature.

Interview
What was your favorite book when you were a child?

The Diamond in the Window by Jane Langton

What's your favorite line from a book?

"Rohan had come at last." From The Return of the King by J. R. R. Tolkein

Who are your top three favorite authors or illustrators?

Melissa Sweet, Polly Horvath, Jennifer L. Holm

Why did you want to become an author or illustrator?

It was all I ever wanted to do. I began writing for fun at age seven, writing "seriously" at age eleven, and writing for children at age fifteen. I've never looked back.

Do you have any advice for future authors or illustrators?

Read! Draw! Write! That's what I did as a kid. If you want to be a writer or an illustrator, practice your craft. Write or draw every day. Never stop reading!