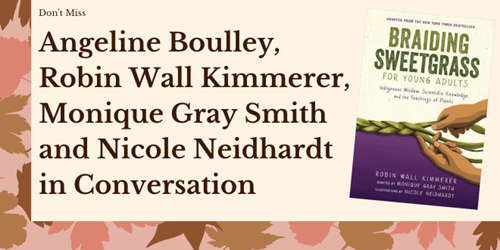 Braiding Sweetgrass for Young Adults New York Public Library Event
Free Virtual Event
Click here to watch the recording of the launch event!
Praise for Braiding Sweetgrass for Young Adults
★ "Braiding Sweetgrass for Young Adults is my new favorite book! What a great way for young people (and anyone, really) to learn about our healing medicines. Chii miigwech!"—Angeline Boulley, #1 NYT Bestselling author of Firekeeper's Daughter

★ "This beautiful, imaginative revisioning is a gift to our children that teaches them how to follow the path of our ancestors."—Diane Wilson, author of The Seed Keeper

★ "Gray Smith's adaptation makes this visionary exploration of Indigenous connections to the land, to plants and to storytelling and story-making accessible to a whole new readership and hopefully will inspire young people to rise to the challenges of the Climate Crisis." –Jeffrey Canton, Children's Book Columnist, The Globe and Mail

★ "Readers will feel as if they are in conversation with a caring, respected expert guide who offers a hopeful, nourishing vision. Both an urgent, essential call to action and an uplifting love letter." –starred, Kirkus Reviews

★ "What a gift this adaptation is for all of us! Monique Gray Smith and Nicole Neidhardt have crafted a beautiful book─inviting reflection, conversation and activism that I hope young people will read and share in homes, communities, classrooms and libraries across the globe."—Traci Sorell, two-time Sibert Honor winning author

Download a Poster of the Haudenosaunee Thanksgiving Address
Register to be notified when the discussion guide is available!
Download the excerpt Maple Sugar Moon
Watch Monique, Robin, and Nicole talk about the process of creating Braiding Sweetgrass for Young Adults
Updated October 2022