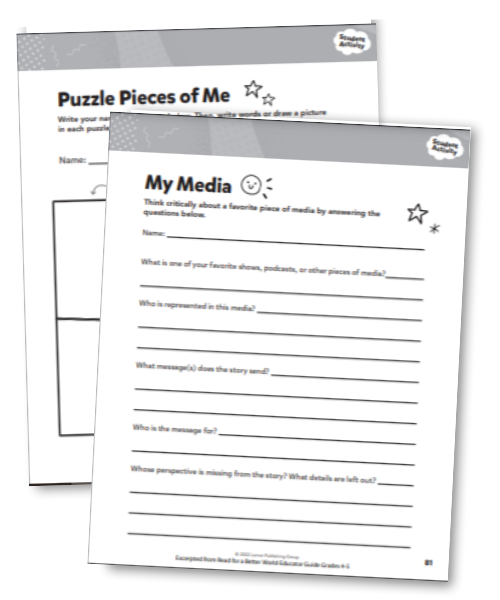 Download Free Diversity and Inclusion Activities
Click below to get download free, printable student activity sheets that support diversity, equity, and inclusion.
Activities for Grades PreK-1:
Download (PDF)

Activities for Grades 2-3:
Download (PDF)

Activities for Grades 4-5:
Download (PDF)

Like These? Subscribe to Our Monthly Classroom Newsletter

Ask Us About Curated Collections

Whether you're looking for curriculum support, social-emotional learning, diverse titles, literacy development, and more, we can build a curated collection just for you. Explore categories below, or contact a rep to get started on a custom quote just for you.
Explore Classroom Libraries and Text Sets
STEM

Text Sets (Grades K-5) Learn More >
Coding Text Set
Learn More >
Lerner Sports Classroom Library
Read for a Better World: Everything You Need to Build and Use an Inclusive Classroom Library
Discover a new kind of inclusive literacy collection. Read for a Better World is designed to help students think, create, share, and grow along the themes of identity, diversity, justice, and action. Learn about the program at readforabetterworld.com.
Download Our Social-Emotional Learning Catalog
Find books that help readers reflect on SEL characteristics, discuss values and decisions, examine characters' responses to situations, and deepen their understanding of SEL skills. Browse or download your copy here.
Download the Diverse Books Catalog
Browse our PDF catalog identifying books across nine categories: Social Justice, Race and Ethnicity, #OwnVoices, Immigration, LGBTQIA+, Mental Health, Physical Disability and Illness, Feminism, and #MeToo. Download here.