M. H. Pilz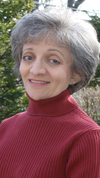 Photo by David Pilz
Following her dream, M. H. Pilz has been a professional illustrator for over 25 years. She studied Art Education, with further training from the Art Institute of Chicago and the Chicago Academy of Art.
Interview
What was your favorite book when you were a child?

Winnie the Pooh by A. A. Milne, and also The Wind in the Willows by Kenneth Grahame, the Beezus & Ramona books by Beverly Cleary, and the Little House on the Prairie series by Laura Ingalls Wilder

What's your favorite line from a book?

"…you are braver than you believe, stronger than you seem, and smarter than you think…"

—A. A. Milne, Winnie the Pooh

Who are your top three favorite authors or illustrators?

Illustrators: Ernest Shephard, Garth Williams, and Louis Darling

Why did you want to become an author or illustrator?

I always loved books and spent hours reading, creating my own world by writing stories, and especially studying illustrations.

Do you have any advice for future authors or illustrators?

Keep a journal or sketchbook, and write and draw in it all the time. Write down your ideas, stories, funny things people have said, impressions of places or events. Sketch your pets, family and friends, scenes you want to remember.